Bizerte
Bizerte is a city in northern Tunisia located between the Mediterranean Sea and Lake Bizerte, located about 60 km from Tunis, known for the diversity of its beaches (Rimel, Sidi Selem, Les Grottes…) but also for its sites historical. It is the capital of a governorate populated by more than half a million inhabitants. The city had 136,917 inhabitants in 2014. Surrounded by the Mediterranean, to the north and east, the lakes of Bizerte and Ichkeul, to the south, the city communicates through a corridor towards Menzel Bouguiba and Tabarka, and a mobile bridge which connects it to Zarzouna then Tunis. The city of Bizerte is also known for the eclecticism of its population, its medina at the edge of a small fishing port and its "Lablebi" sandwich, a typically Bizertine specialty.

Tunis
Tunis is a tranquil yet bustling capital with numerous sights to attract visitors. The medina and its souks (dominated by the presence of the Great Mosque), the nearby central market, and the extensive Avenue Habib Bourguiba, which crosses the modern city from the historic quarter to the port, form the lively heart of a city displaying myriad architectural influences. Its history can be admired in its buildings, as well as in the Bardo Museum, with its exceptionally rich collection of Roman mosaics, as well as artefacts highlighting other civilisations which have occupied the country.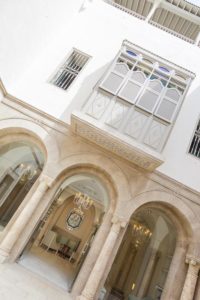 Dar El Jeld Hotel and Spam
Dar El Jeld Hotel and Spa is 2 km from Kasbah Square and 2.1 km from Kasbah Mosque. The nearest airport is Tunis Airport, 12 km from the hotel which provides a chargeable airport shuttle service.
Medina Tunis

Dar Ya
Dar Ya is 400 meters from the Medina, 1.7 km from Habib Bourguiba Avenue and 2.4 km from Belvedere Park. Tunis Airport is located 7 km away.
Medina Tunis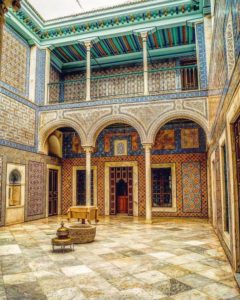 Dar Bayram
Bayram Palace is 1.5 km from Habib Bourguiba Avenue. Tunis-Carthage Airport is 7 km away.
Medina Tunis